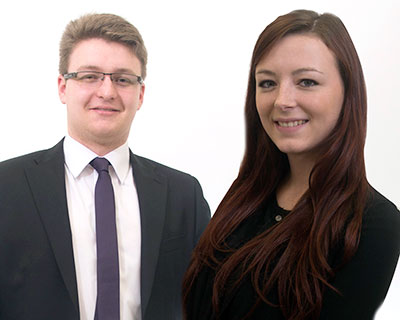 Petty's has always been advocates of nurturing the talent of the future and we are delighted that our latest recruits now jointly celebrate their first year anniversary with the firm.
Meghan Wilson joined the team whilst completing her Business and Administration Apprenticeship at level 3, which she completed last December at Burnley College. Putting her skillset gleaned from this course to good use, she is now applying them to the fast paced office within the Commercial Property team here. Her full-time role as Assistant Administrator means she is a customer facing point of contact for arranging appointments and viewings, liaising with clients and creating the sales particulars whilst keeping on top of all enquiries and ensuring the website is kept fresh and populated with the correct content.
Tom Shaw completes the duo having joined as a trainee agent in April 2014 and where he was introduced to the world of commercial property under the guidance of Brent Forbes, whom Tom shadowed in the early months. The past year has seen Tom flourish to the position of Trainee Surveyor but his thirst for learning never wavers. He is also now studying for a degree in Real Estate Management at the College of Estate Management with the intention of becoming RICS qualified. Having recently passed his driving test, Tom has assumed more responsibility for viewings and appointments and can take more of a proactive role with client meetings and negotiations.
Brent Forbes said: "Both Meghan and Tom have worked tirelessly over the past 12 months and we are all delighted to see how their dedication and passion for what they do has paid off as they each continue to grow in their individual roles. Investing in people should be at the heart of business and we look forward to seeing how they carve their career with us."
We are trusted members of
Sign up for property alerts