The recent awards night, held at Burnley Mechanics marking the end of the Pendleside Hospice Corporate
Challenge, saw Petty walk away with two awards!
The challenge has now become an annual event for many companies and is in its third year. The event was sponsored this year by Charter Walk and the participating companies raised a total of £157,000.
The innovative concept of the Corporate Challenge sees the Hospice give companies £50 and ask them to turn it into as much as they could during a four-month period (1st June-30th September).
Petty's were the proud winners of the Digital Marketing award and the Man of the Year, which went to our Residential Director Ian Bythell.
Ian took on many physical challenges during the four months completing the Yorkshire Three Peaks, Burnley 10K, the Great North Run and a 12 hour 150 mile tandem ride.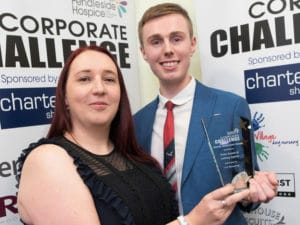 Overall we managed to raise a whopping £13,000 and we must thank everyone that donated or took part in any of our events. Ian said: "It was a great effort by so many people. There were some outstanding amounts raised, but the awards recognised everybody's contribution – not just those who raised the most money, but also the company's that took on board the ethos and won engagement from a wider audience.
"We're really proud to have raised much needed funds for Pendleside Hospice and taken part in such a brilliant initiative. To have so many businesses involved has raised much needed funds, but also engaged lots of people locally and raised awareness of the vitally important work of the Hospice and the fact that they touch so many lives in a really positive way. Most of us have at some point experienced friends or family with life-limiting illnesses and it's both humbling and inspiring to see the amazing support for people that is provided by our wonderful hospice."
Christina Cope, from Pendleside Hospice, added: "The amount raised this year has far surpassed last year's total and has really blown us away. We're incredibly grateful to have so many prominent local businesses like Petty's taking part in the challenge and getting so much commitment from all their members of staff.
"As well as raising much needed funds for Pendleside Hospice, the Corporate Challenge benefits the businesses taking part providing team-building opportunities, inter-departmental working, publicity and a contribution to the company's Corporate and Social Responsibility efforts. They also know that they've made a huge contribution to the continued work the hospice does in helping people living with a life-limiting illnesses."
We are trusted members of
Sign up for property alerts